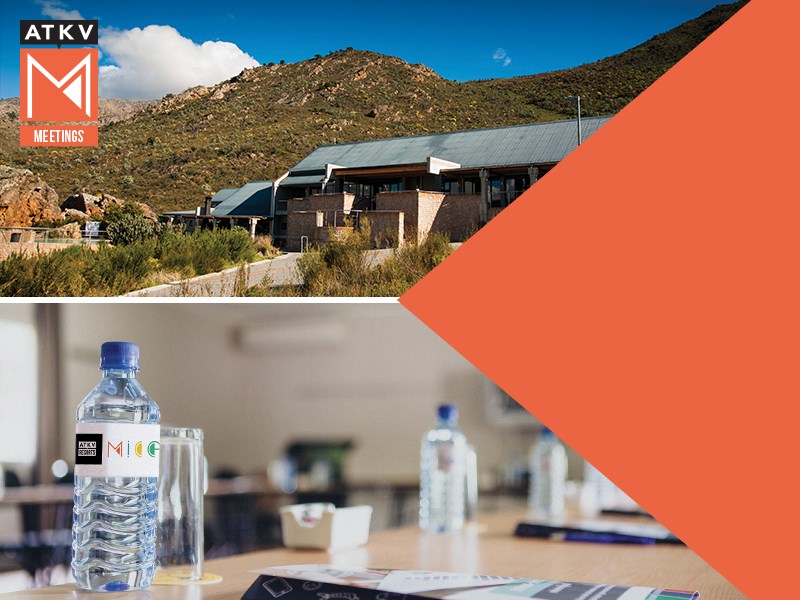 More than just a meeting
Meetings can very easily turn into a bore if you don't choose the right venue. Luckily, ATKV Resorts offers packages and services that prevent the boredom from kicking in. By combining business and fun, we ensure that it's not all work and no play

Wherever you choose to host your meeting, our seven ATKV resorts are scattered all over the country and provide you with the meeting room for your needs. Whether you prefer an intimate affair with only a few attendees, or a big corporate get-together, there's an option for you at your nearest ATKV resort – each with its own leisure activities to take the dull out of stuffy business meetings. We offer tranquil spaces to ensure that your outcomes and objectives are met and that delegates are satisfied and equipped with the knowledge and information that needed to be conveyed.

Each of our seven ATKV resorts offer their own luxurious incentives within the wonder of nature. From horse riding in the mountains to wine-tasting in the most beautiful vineyards, your employees will be able to restore mind, body, and soul. Our incentives packages can be customised according to your specific needs to ensure that the spoils and pampering never stops!

Unconventional conferences
There's nothing worse than having half-asleep delegates at the conference that you worked so hard on. A quick splash in a cold, sparkling pool will help to get the creative juices flowing again. With ATKV Resorts' unique conference packages we ensure that your delegates can focus on business and pleasure to keep them alert and engaged.

At ATKV Resorts we are ready and able to take your conference needs and turn it into a reality. Each resort is equipped with state-of-the-art equipment, various seating options that you can choose from, skilled personnel, as well as unique FUN activities that you and your delegates can participate in during your business stay at an ATKV resort. From venue to equipment and catering, our resorts are a one-stop shop for all your conferencing needs. No need to just pack your suits and corporate wear, as you'll definitely need sivvies for a conference at an ATKV resort!

If there's one thing that ATKV Resorts knows how to do, then it's how to put together an amazing event. With many years' experience, no longer will your business events be dull and easy to forget, because when you host your event at an ATKV resort, you're in for a memorable experience. Each resort is equipped with indoor and outdoor venues and skilled staff that are at the ready to make sure your event runs smoothly.

Business events with a fresh approach
ATKV Resorts offers an all-encompassing solution for all your business-event needs, and focuses on servicing the specialised needs of the MICE industry by offering tantalizing meetings, incentive, conference and event venues.